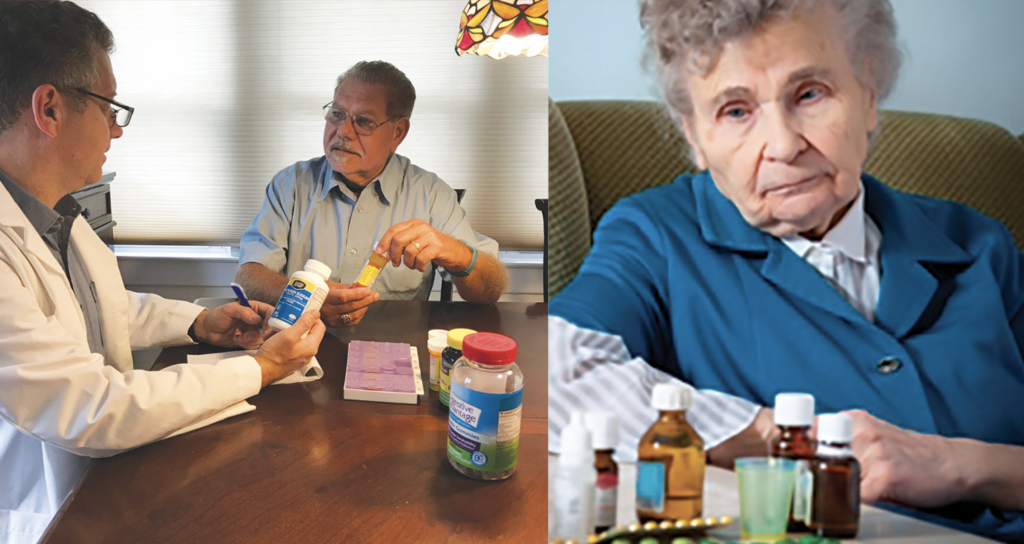 Why do you need to know about the medications your patients are taking?  You're a rehab therapist, not a physician or pharmacologist, for goodness sake. You don't prescribe, so why would anyone think it's part of your role as a rehab therapist?
The fact is that prescription, OTC, and shared drugs as well as supplements all affect function as well as physical and cognitive abilities and our ability to work with our patients. Our ignorance of this vital bit of data means that we can't properly modify our treatment plans or notify the treatment team when there's a problem.
Have you ever scratched your head when patients aren't progressing properly or their exercise tolerance continues to be limited? Without a proper medication review, you may not uncover the real problem.
As a rehab therapist, you may see your patients as often as 1-3 times/week, while the prescribing physicians may see them once a month or less often. Thus, we are likely to discover medication errors or problems much more quickly.
You may have felt too overwhelmed to address this topic until now. You may know that you need this information, but you didn't know where to start. If so, this is course for you.
Do you want to better understand how medications affect a person's health and ability to function? All medications have both positive and negative effects which potentially impact a patient's ability to function. Therapists who integrate medication knowledge into practice will maximize patient safety, function and outcomes. Medications have a dramatic impact on ADL and IADL function and by knowing these effects, therapists have the greatest opportunity to improve function when interfering medications are identified and addressed.
The purpose of this seminar is to provide participants with the information required to incorporate pharmacology and medication management into practice with the older adult. Therapists across the acute care and post-acute care continuum are accountable for patient safety inclusive of medication effects on physical function.
This seminar includes interactive lecture components, but Dr. Miller also includes small group discussions, video and case scenarios to demonstrate medication assessment, management and education.
Participants will be able to immediately translate pharmacology knowledge into clinical practice to effectively assess and treat patients while maintaining patient safety. You will learn techniques to help monitor patients for intended effects, untoward effects, and side effects in order to assist with safe medication use, medication adherence and reduce hospitalizations related to adverse drug events.
Evidence-based resources, including the Beers Criteria and communication tools such as CUS, will be provided to participants to help them engage in crucial conversations with the patient and the healthcare team to improve safe medication use. The course manual is comprehensive including both print and electronic resources for uses immediately in practice. The participant will take home quick examination tools to identify pharmacology issues in minutes.
What Participants Are Saying . . .
"Great Presenter. Very upbeat and knowledgeable, thank you for making me feel more confident with medication reviews."
"Great speaker. Awesome handout. Concise and straight to the point."
"This course was very informative and interactive."
"Exactly the kind of course I needed."